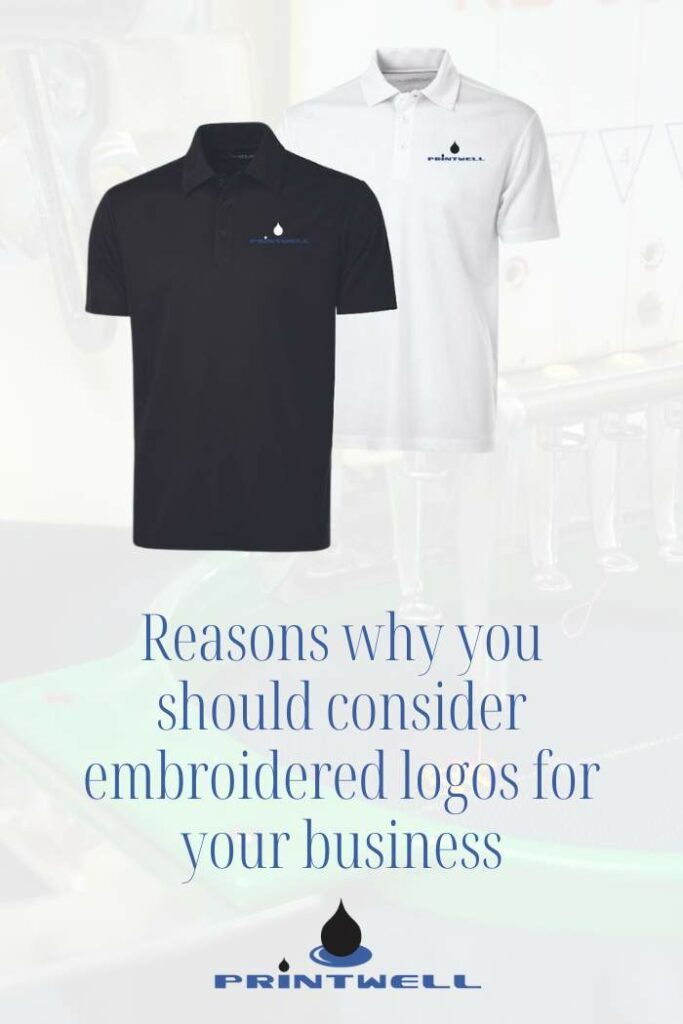 Reasons why you should consider embroidered logos
Embroidered logos are a great way to promote your business. They look professional, they're durable, and they can be cheaper than you think. An embroidery is an art form. It's a skill that takes years to develop, but when done well, it can make your logo look completely professional and polished. Keep on reading to learn the benefits of having embroidered logos on your business apparel.
1. Embroidered logos are professional
Embroidered logos are professional. These types of promotional products are perfect for any business, regardless of its size or industry. They're great for those who want to show off their brand stylishly.
In addition embroidery can be considered an option for any business. They come in many shapes and sizes, so there's no reason why you shouldn't consider embroidering your company logo on something that will help promote your brand!
Furthermore, embroidered logos are a good way to show off your logo. Having an embroidered logo on hand is a great way to display it proudly and confidently at events such as trade shows or conventions!
2. Embroidered logos are durable
Embroidered logos are extremely durable. This is because the threads are sewn into the garment, which makes them more difficult to rip out and causes them to last longer than other types of logos. Embroidered logos can also withstand washing and stay intact, as they're not simply printed on top of a shirt's fabric like screen printing or heat transfer methods.
3. Embroidered logos have a higher perceived value
You're a business owner who wants to put your best foot forward. You want your logo to look as professional as possible, but you don't have the time or resources to spend on a printed logo. Or maybe you already have a printed logo that needs some touching up: an embroidered logo will make it look new again.
Embroidered logos are more expensive than printed logos because they require more time and skill on behalf of the designer/embroiderer who makes them. Part of what gives them this higher perceived value is that they tend to last longer than other methods because they aren't subject toas much wear and tear from constant use in one place (like screen printing).
The fact remains: a well-made embroidered piece looks great on display and will likely last for years without losing its charm or fading away into oblivion as soon as it comes off the machine (in contrast with sublimated transfers which fade over time).
4. Embroidered logo clothing may be cheaper than you think
Embroidered logo clothing is often cheaper than you think. The price of embroidered logos depends on the size of your logo and how much space it takes up. If you have a small logo, then you'll pay less for it than if your company has a huge one. The price of embroidery also depends on the material used to make them (e.g., cotton vs polyester).
In summary: embroidered logos are great for business!
There are several reasons why embroidered logos are great for business.
They're Professional. If you want your business to be taken seriously, then it's important to present yourself as such. Embroidered logos can help create an image that is more refined and professional than a printed logo would give off.
They're Durable. Embroidery is a durable method of applying a logo to clothing because the stitching will not come undone from washing or wearing, like screen printing or vinyl lettering over time.
They Have A Higher Perceived Value Because Of Their Durability And Professional Appearance.
Embroidered Clothing May Be Cheaper Than You Think
If you're looking for an affordable way to promote your brand name or logo on shirts, caps and jackets, consider having these items custom embroidered at an embroidery shop near you!
Create your own custom embroidered clothing!
We hope this article has helped you to understand the many benefits of logo embroidery for business. They are a great way to get your brand out and make it stand out. If you haven't already, then now is the time to start thinking about getting your own custom logo wear!
Are you thinking of incorporating a custom-embroidered logo into your clothing? At Printwell, we're able to add embroidered logos to custom t-shirts in Ottawa, custom hoodies and sweaters, custom apparel and much more!
We work with a wide range of customers and have built up a reputation as a reliable company that delivers high-quality Ottawa Embroidery services. We understand that every project is different and works hard to ensure that all our clients are satisfied with the outcome.
Whether you're looking for an embroidered logo on a t-shirt or hoodie, we can help you create the perfect piece of clothing for your business needs.